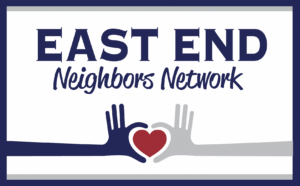 East End Neighbors Network (EENN) is community based volunteers that:
-  Find those in the East End Community who have a physical, mental or economic challenge or need
-  Learn what types of needs are mostly needed in the East End Community
-  Build relationships with Community and non-profit organizations to support the needs
-  Connect and coordinate the implementation of the services
-  Drive awareness of the services to the community
Below is a list of resources for those that may need assistance:
Need help with utilities?
Contact Hamilton County's 513Relief. It's provides links to resources to help with rent and utility during this time, along with other items. The rent and utility program can cover up to 12 months in past rent and three months in future rent.
https://513relief.org/
Greater Cincinnati Water Works is also working with Promise Pay to help customers set up payment plans for past due utility charges, utilizing different options and methods. www.cincinnati-oh.gov/water/billing-information/promise-pay/
Council on Aging of Southwestern Ohio (COA) is a nonprofit organization dedicated to enhancing quality of life for older adults, people with disabilities, their families and caregivers. We promote choice, independence, dignity and well-being through a range of services that help people remain in their homes for as long as possible. Visit: https://www.help4seniors.org/
More than just crowdfunding. Community-led positive change. ioby stands for "in our backyards," but it also stands for taking care of each other, for civic participation, and for trusting neighbors to know what's best for the neighborhood. Visit: https://ioby.org/about
PWC has been strengthening OH, KY & IN communities by providing critical home repairs, energy conservation, and accessibility modification services to help residents remain independent and healthy in their homes.PWC provides services for eligible homeowners whose typical income is just $14,000 a year. Often, these individuals face challenges due to illness, disability, job loss, or other circumstances. Visit: http://www.pwchomerepairs.org/services
Habitat for Humanity builds strength, stability, and self-reliance through shelter, creating quality of life, health and economic prosperity of the entire community. Visit: https://www.habitatcincinnati.org/
The Habitat for Humanity - Veteran Repair Program is a home repair program that serve active duty military members, veterans, and surviving spouses of veterans. The repairs can be interior or exterior work performed to alleviate critical health, life, and safety issues Visit: https://www.habitatcincinnati.org/what-we-do/veteran-repair-program.html
Pro Seniors provides education, advice, advocacy, representation and justice for seniors in Ohio through our three programs, all provided at no cost to clients. If your Medicaid application is denied and you don't know what to do, if you are concerned about how your elderly aunt is being treated in a nursing home, or if your adult children steal your savings, we can help.  Visit: https://www.proseniors.org
Link to Special Presentation from October 3rd Public Meeting Click Here
To watch a video on Pro Seniors services Click Here
Hamilton County Job and Family Services fills the gaps, providing support for disabled, elderly and children through the form of food, medical, work and financial assistance.
Flood assistance available: The state has made a limited amount of money available for qualifying disaster-related expenses to individuals in the following categories: Hamilton county families who meet the eligibility requirements for Temporary Assistance for Needy Families, childless individuals age 55 or older, disabled individuals who have been adversely affected by the emergency. A "disabled" individual must be childless and in receipt of some type of disability benefit payment. Visit: https://www.hcjfs.org/disaster-assistance-available/